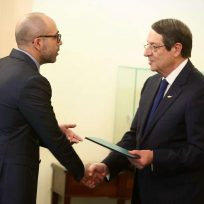 Role and Mission
Dr. Nikolas Mastroyiannopoulos was appointed by H.E. the President of the Republic of Cyprus, Mr. Nicos Anastasiades, as the National Chief Scientist for Research & Innovation in March 2020 with the political mandate to lead and coordinate all efforts for:
Cyprus to become a dynamic and competitive economy, driven by research, scientific excellence, innovation, technological development and entrepreneurship, and a regional hub in these fundamental areas
The Chief Scientist is the political and executive owner for Research and Innovation within the Research & Innovation (R&I) Governance System and, in this capacity, holds a number of ex-officio roles such as Member of the National Board of R&I (NBRI), Chairman of the Board of Directors of the Research and Innovation Foundation (RIF)  and Chairman of Ministry R&I Coordinators' Committee.
The mission and competences of the Chief Scientist:
Contribute in the formulation of the government 's R&I Policy. Coordinate and supervise the formulation and implementation of the national R&I Policy, ensuring that the national R&I strategy is implemented through coherent and comprehensive policy measures, funding instruments and initiatives. Coordinate the effective contribution of all stakeholders to the development and implementation of the national R&I strategy and policy.
Propose research and innovation policies to the Deputy Minister of Research, Innovation and Digital Policy and advise on relevant R&I actions and initiatives
Contribute to the alignment, effective impact and efficient operation of the national R&I governance system.
Ensure that all stakeholders of the R&I Governance system in Cyprus interact and collaborate in a coordinated and well-orchestrated manner, enabling Cyprus in translating science and research to societal benefits and commercial innovations.
Participate as an ex officio member of NBRI and facilitate its work by formulating recommendations on the national R&I strategy, policy and the structure and operation of the national R&I governance system.
Chair the Ministries R&I Committee and lead the promotion and implementation of Ministries' R&I matters. Coordinate Ministries, public departments and other competent authorities associated with and or involved in drafting and executing the R&I policies.
Contribute in raising awareness and nurturing of innovation culture, mobilizing stakeholders and developing the fundamental building blocks of the national R&I ecosystem.
Lead efforts towards Innovative Entrepreneurship for enhancing economy competitiveness and social prosperity and making R&I the new competitive lever for the productive base of the national economy, through research and scientific excellence.
Represent the Republic of Cyprus in European and international bodies related to Research and Innovation.
The Chief Scientist is an advocate of the Research and Innovation excellence of Cyprus, creating synergies and links with international organizations in fields of science, technology and innovation, promoting Cyprus as a regional hub for research and innovation.