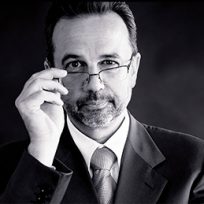 Biography
Kyriacos Kokkinos is the first Chief Scientist for Research and Innovation of the Republic of Cyprus, a Member of the National Board for Research and Innovation (NBRI) and the Chairman of the Research and Innovation Foundation.
In his professional career he excelled as a distinguished professional and technologist with key focus on Digital Transformation Consulting and Information Technology. His Academic qualifications include Executive MBA in Strategic Management from Henley Management College (UK) and MSc & BSc in Electrical Engineering from New Jersey Institute of Technology (USA).
Prior to his appointment as national Chief Scientist he served in PWC Cyprus as Executive Director and in IBM as Executive Director & Partner, IBM Europe, with 30 years of experience in the Technology Consulting and Services Sector, the most recent role being the leader of European Consulting practice in Cognitive Computing – Analytics and Artificial Intelligence (AI).
He is the recipient of numerous awards and recognitions for professional excellence, including the 'Business Leader of the Year Award' 2016, by Cyprus Chamber of Commerce and the 'Quality Leader Award 2015' by Cyprus Quality Association.
He serves at the Board of Directors of several organisations, including the Board of Directors of the Cyprus Investment Promotion Agency and the Board of Trustees of Cyprus Institute.