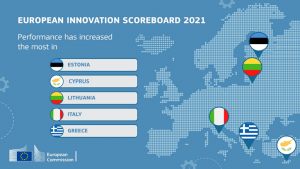 Cyprus had the second best progress in the European Union
 Cyprus' results in the European Innovation Scoreboard 2021 published on 22 June, were particularly encouraging. Specifically, Cyprus' innovation performance recorded the second-best progress in the European Union.
The Chief Scientist for Research and Innovation of the Republic of Cyprus and Chairman of the Research and Innovation Foundation (RIF), Dr. Nikolas Mastroyiannopoulos, expressed his satisfaction with the country's performance in 2021, saying "the Government and stakeholders of the R&I ecosystem are making continuous efforts to highlight Cyprus' progress in this field and increase investment in innovation, with the ultimate aim being to boost the competitiveness of the country". He added that "the results are particularly encouraging; however, we must continue with enthusiasm and pick up the pace to achieve even bigger achievements in innovation".
The two indices where Cyprus achieved the highest scores were international scientific publications and cooperation between innovative Small and Medium-sized enterprises and other organisations. Furthermore, according to the EIS 2021, Cyprus' significantly improved performance between 2019 and 2021 is partially due to an increase in high-risk capital investments.
For the first time ever, the European Commission has included indices related to environmental sustainability, stressing the importance of its policy for the Green Transition. Cyprus is showing significant margins for improvement. Dr. Mastroyiannopoulos said that the National Recovery and Resilience Plan is a great opportunity to develop Cyprus, especially when it comes to green transition, as well as innovation in general, so that the country can become more competitive and modern.